Are you on the lookout for a reliable digital marketing firm in Thailand? The digital marketing sector is fiercely competitive, particularly in the tourist hotspot of Thailand. In our tech-focused world, the industry is ever-developing and evolving to match trends. 
So, how can you find the most desirable and reliable agency to match your brand perfectly? We've curated a selection of top-tier digital marketing agencies that cater to diverse business needs.
Regardless of whether you are a small enterprise or a renowned brand, you deserve an authentic  marketing specialist. In this article, we will explore our top ten digital marketing agencies.
What Makes a Top Digital Marketing Agency?
A top digital marketing agency stands out through its understanding of the dynamic online landscape and its ability to craft strategies that adapt to the ever-evolving trends. Such agencies possess a blend of creativity and data-driven precision, utilising innovative techniques to captivate audiences across various platforms. 
Their success lies in a proven track record of delivering measurable results through increased website traffic, enhanced brand visibility, or higher conversion rates. Effective communication, adaptability, and a deep commitment to staying ahead of the curve are the hallmarks that set a top digital marketing agency apart, ensuring they not only meet but exceed their clients' expectations in today's competitive business environment.
1.IBEX

At IBEX, we take pride in delivering and servicing fully integrated, proven digital marketing solutions. We aim to support all your brand's digital needs through digital strategy, social media marketing, SEO, performance media, e-commerce marketing and content marketing. We help your company grow with creative & data-driven digital marketing.
Based in Bangkok, our team is an extension of your in-house team, providing strategy, content, technical support and execution. Some of our brand partnerships are with the top brands in Asia, such as Amazing Thailand, BMW, Anantara Hotels, Radisson Blu, Isuzu, Intercontinental Hotels and many more. 
With 50+ partners and 2+ Million THB spent on online advertising, we have extensive experience in the field and aim to build a direct and transparent lasting relationship with our clients. 
If you're in need of digital marketing services, look no further! Do not wait; contact us today. 
2.Convert Digital
Convert Digital is recognised as one of the premier digital marketing agencies based in Bangkok that works with small and medium enterprises (SMEs). 
Their services include an all-in-one package, SEO, Google ads search and display, social media, content and branding, hotel consultation and even creative services such as photography, videography, and graphic design. 
The all-in-one package they offer not only delivers remarkable value at an affordable cost but is also substantiated by great results. As an optimal collaborator, Convert Digital addresses diverse objectives, be it augmenting sales, heightening brand recognition, boosting online traffic, or amplifying engagement on social media platforms. 
They also provide convenience and flexibility by offering a complimentary consultation without enforcing binding contracts for those who want to try them out first.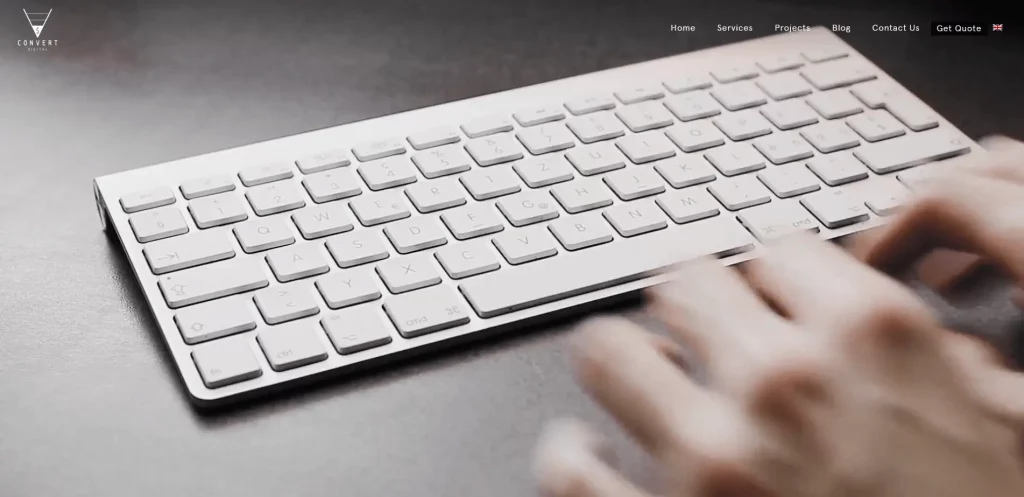 3.Digital Base
Digital Base, located in Bangkok, is a multifaceted agency specialising in marketing, development, and design services. Their comprehensive approach aims to create seamless and synchronised user experiences across all digital platforms. 
Through integrated strategies encompassing design, development, and marketing, they elevate brands, websites, and digital campaigns to new levels of success. Recognising the critical importance of a strong digital presence, they understand the need to capture potential client's attention within seconds. 
With over a decade of experience, their dynamic team of digital marketing experts assist in brand building, Google AdWords campaigns, SEO, social media strategies, tailored website design and comprehensive digital marketing strategies. Their commitment extends from idea conception to the final product, ensuring success. 

4.Digital Factory
Established around eight years ago, Digital Factory is a digital marketing agency that boasts great stats and testimonials. They aim to assist with crafting online marketing strategies, generating innovative content, and collecting and evaluating data for optimisation purposes. 
Seamlessly blending various work approaches, they work with both digital and offline realms to achieve the brand's business objectives. Their services include strategy and planning, data and bidding optimisation, creative production, content creation and website design. 
With over 50 experienced team members, they have been able to deliver 2,500 campaigns reaching more than 5000+ mil users! They work with an impressive 300+ brands, such as Mitsubishi, Food Panda, Bangkok Bank, Nivea, JBL and many more. 
5. Adapter Digital
Adapter Digital, a front-runner in digital marketing, stands out for its exceptional creativity and innovation. Garnering the title of Digital Agency of the Year, it boasts an impressive portfolio of top-tier brands. The agency's prowess extends beyond the surface, with expertise spanning both the front and back of the digital ecosystem. 
Their wide range of services includes digital consultancy, strategic planning, creative ideas, content and communication development, channel planning and optimisation, KOL strategy and implementation, social community management, innovation development and data insight, analysis and planning. 
Having created some enticing works with brands such as Samsung, Meiji, Chang, Xsight, Power Buy, SCB and more, they are up there for creative marketing and advertising. 

6.YDM Thailand 
YDM Thailand has emerged as a prominent player within the digital marketing landscape in Thailand. The agency drives end-to-end business growth strategies by leveraging technology and creativity. Operating cohesively within the E-CO System framework, their nine interconnected companies collaboratively aid one another, culminating in the highest levels of customer success. 
YDM Thailand's strategic focus encompasses four primary digital domains: digital marketing consultancy, digital marketing solutions, digital media, and the establishment of a digital marketing platform. With around 865 clients, including top brands such as Grab, Nivea, Nestle and Levis, they can be trusted to create a comprehensive digital marketing strategy and implement this well.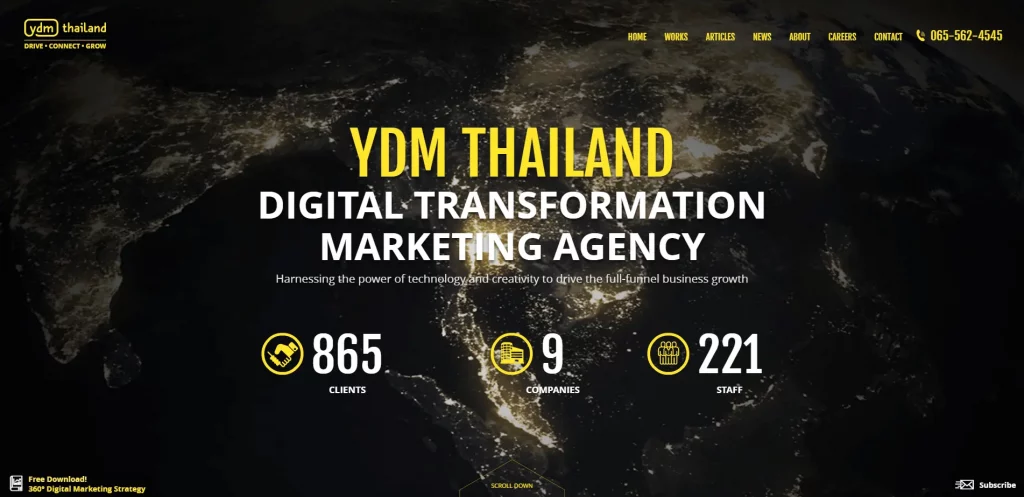 7. Most 2414
Situated in the city of Bangkok, MOST 2414 are one to watch out for in digital marketing. Their expertise lies in strategic planning, marketing, brand narrative development, and e-commerce solutions. The agency takes great pride in its team of passionate professionals who dedicate themselves to client projects, resulting in the creation of highly successful partnerships.
With a remarkable track record of collaborating with over 50 different brands and successfully executing more than 100 projects, MOST 2414 is revolutionising the way brands engage with their intended audiences. Their remarkable roster of brands includes prestigious names such as Ferrero Rocher, Illy, Schneider Electric, Kinder Bueno, Select Property Group, Nutella, and many more.
Central to their mission is their unwavering commitment to team up with brands to actualise their business goals. They achieve this by implementing data-driven strategies that consistently deliver outstanding performance outcomes. Ultimately, their objective is to establish enduring customer relationships, cultivating loyalty and long-lasting connections.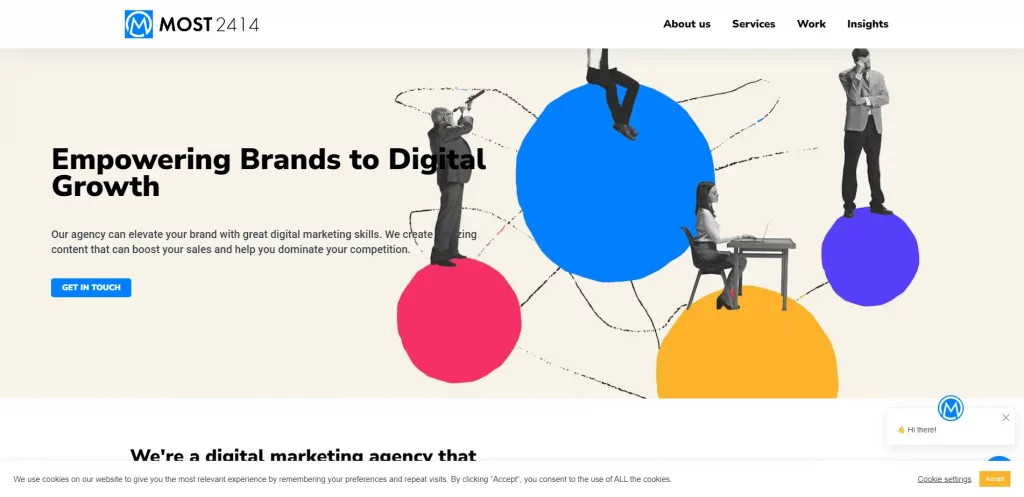 8. Nipa 
Going beyond the concept of a conventional one-stop service, Nipa employs innovative approaches to magnify the efficacy of its clients' online marketing initiatives. 
The agency is well-prepared to elevate businesses' marketing strategies through website, email, search, and online advertising and retargeting, guaranteeing favourable pricing in the industry. With a history of successful partnerships with leading enterprises spanning various sectors, the agency's extensive 15-year experience is a robust foundation to nurture and advance businesses towards their objectives.
Their clients cover multiple industries, such as automation, retail, hospitality, tech, medical and more. Some of their well-known clients include Thai Airways, BMW, Honda, Yamaha, Bangkok Post and 3BB. 
9. Inspira Digital Agency 
Inspira Digital Marketing Agency, established in 2016, is an innovative agency that has demonstrated a profound ability to create and optimise marketing materials. They focus on understanding customers' requirements, industry competition, and market dynamics and curate and refine marketing resources tailored to advance businesses' objectives.
Inspira Digital Marketing Agency presents a comprehensive suite of six fundamental web and internet marketing services that synergistically reinforce one another, enriching the agency's vast offerings. These services are digital strategy, web design and development, SEO, social media marketing, Google Ads and video production. 
They analyse the business, its competitors, and the target audience and formulate a personalised strategy that ensures optimal outcomes. The emphasis is on generating premium traffic and leads, both of which can translate into increased sales and revenue.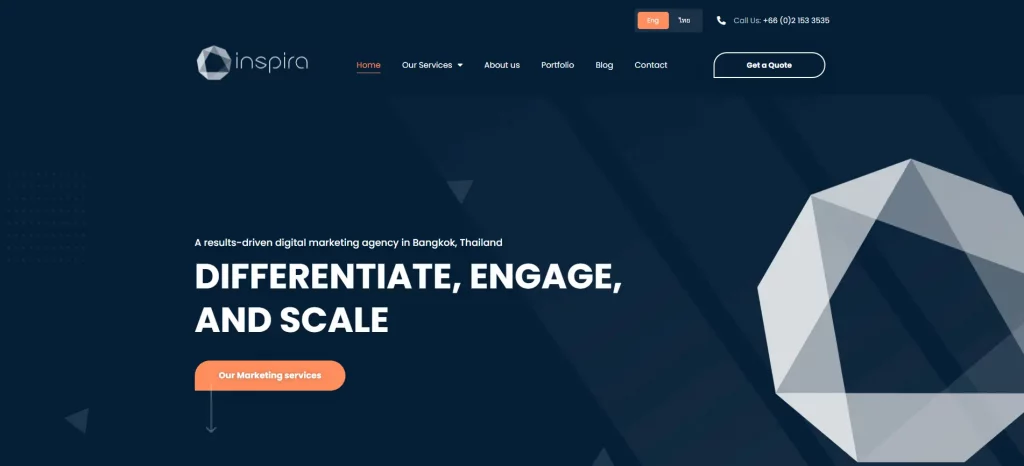 10. Relevant Audience
Elevate your online business with Relevant Audience, a digital performance marketing agency situated in Bangkok. What distinguishes them is their emphasis on results and personalised strategies, allowing them to customise their marketing approaches according to each company's specific market. 
With an extensive array of services, they serve a diverse range of industries and brands. Their offerings encompass everything from lead generation and ecommerce to digital branding, advertisements, SEO, and social media management.
With a track record of successfully assisting over 500 clients and overseeing the investment of more than a billion dollars in effective digital marketing campaigns, they take great pride in upholding their core principles of integrity and openness. Their objective is to listen attentively to their clients and craft compelling content.

Why Hire One of The Best Digital Marketing Agencie
Why choose one of these great agencies to help with your online goals? To succeed in this fast-changing world, you need skills and trust. These reliable agencies ensure you gain quality, new ideas, and actual results.
Picking one of the best digital marketing agencies is more than just a choice; putting money and hope into your brand's future.