If you own a business or work in marketing, you understand the importance of digital marketing.
You understand that being found online, generating leads, and converting leads into customers is the way to go.
However, you are aware that it necessitates a substantial investment. As a result, you, like many others, may have decided to outsource some of your marketing efforts to a digital marketing agency.
There are numerous digital agencies to choose from nowadays.
In Thailand today, anyone can start their own digital agency (which is fantastic – that is how I started IBEX Media Group myself)

The challenges arises when there are so many digital marketing agencies to choose from that you are unsure who can do the best job for you.
Are they the ones who use the opaque marketing buzzwords your direction? Are they the biggest, with the most notable clients and awards? Is it possible that smaller specialised agencies would like to give you more attention? Or is it something else?
At the risk of sounding corny, let me put it this way: When it comes to selecting a marketing agency, it's not about how you select an agency. It's all about finding the "right agency."
Specifically, the ideal match for your company.
Things You Need To Consider When Choosing Your Next Digital Agency
Many of IBEX's clients have previously worked with other agencies. When I ask why they switched agencies, they tell me that their previous agency failed to meet their expectations.
Of course, there could be several reasons for this. The most common reason, however, is that there has been too much of a disparity between what they were promised (or thought they were promised) and what has actually been delivered.
So, let me go over the factors I believe you should consider when selecting a digital marketing agency in Thailand.
Time
We have always lived and breathed two things at IBEX: fantastic customer service and sublime products.
It may seem self-evident and a little abstract. But we have a pretty solid plan to ensure that. We make certain that no one of our specialists is in charge of more than 20 clients.
In this way, we ensure that our specialists know the first names of those with whom they work and understand what success means for each individual client.
Several of our competitors have taken a slightly different approach. Some agencies' specialists have as many as 50 clients per specialist.
Vision & Mission
Your company should be in line with the agency's vision and mission. Here's the question you need to consider:
Is your company and the agency on the same page in terms of what you want to accomplish?
For example, if you want to be the biggest in your industry, you should not hire someone with overly conservative ambitions and who lacks the ability to think big.
If you want to be the best on Facebook, you must select those who are highly specialised in Facebook Advertising.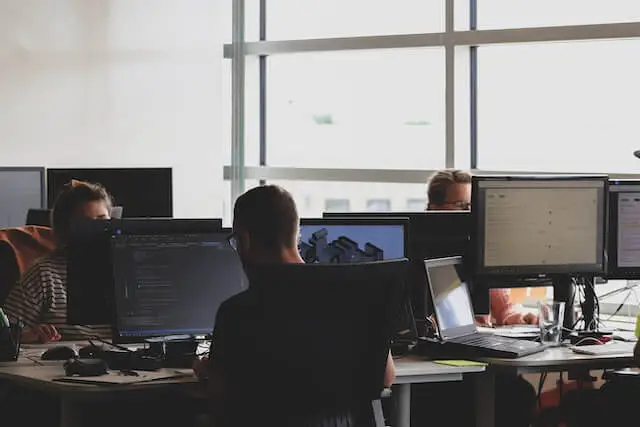 Contract Agreement
In our industry, binding contracts can be difficult to comprehend. I've been in the business for over ten years and I still don't understand the concept of tying customers for three years.
Of course, it makes sense for the agency in the short term because it secures income.
But what kind of experience does being tied to a partnership for 36 months provide you as a client?
IBEX Media Group always operates with a 6-month commitment.
It serves several purposes for us. This means that my colleagues will always go above and beyond for our customers. If we don't, our clients have the option to terminate the contract, usually within 3 months.
Knowing that our clients are always looking for the best product keeps us sharp, and we commit to that by letting customers leave after only 6 months.
References
We cannot deny that references and case studies are extremely important.
After all, approximately 80% of people check a business reputation before deciding to collaborate.
It is, after all, the right thing to do. Examine the reviews for the digital agency on Google, Facebook etc.

Customer Service
Customer service, in my opinion, is about being alert when things are burning and pointed ears when the daily hustle and bustle is in full swing.
When it burns, your eyes open.
What would you think if your website went down on Monday night, it's now Thursday, and no one has checked to make sure everything is in order?
It's just one example of how customer service can go horribly wrong in our industry. However, if your future digital marketing agency has keen eyes, this will not be the case.
Pointed ears during the hustle and bustle of everyday life
Few people in our industry are willing to let customers speak with the "nerds."
I believe that the best ideas come from conversations between the client and those doing the work.
Guesswork usually occurs when production managers allow their busyness to overpower their pointed ears. Or that the agency places a low value on communication because it must go through an "account manager."

Chemistry
It is critical that you and your digital agency advisers have a good working relationship.
Consider whether you'd like to have a cup of coffee with these people. After all, they must contribute to the expansion of your company.
Method
As an example, consider search engine optimisation (SEO).
SEO consists of many different factors, and many activities are required to influence Google's algorithm sufficiently to achieve a top ranking.
This also implies that you can use a variety of methods. As a result, before selecting an SEO agency, we always encourage you to question their working methods.
For example, have you heard about how they get links? Is it quick PBNs, or "real" media? How do they perceive the content on your website? Is it valuable content marketing or keyword-stuffed landing pages that a skilled copywriter would never be part of?

And, perhaps more importantly, what are the objectives and what does success look like for them? Is it a success to move from page 10 to page 7? Or do real inquiries from potential new customers count? Ask the digital marketing agencies you are talking with.

Conclusion
Of course, you don't just have to rely on my words. Go out and meet with a few different agencies and keep the above factors in mind.
I believe it can help you choose the digital agency that best suits you and your business.
I usually say that the most amazing agencies are the ones that dare to say no to a client, either because they don't feel they are the right fit for them, or because they simply don't have the time to solve the client's challenges.
I hope that my advice has helped you understand the difference between an agency and the right agency for you.